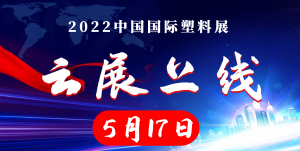 Stand together through thick and thin, cloud show help! In the face of the spread of COVID-19 in China and the severe external environment, the plastic industry will bear the burden of wind and rain in 2022. Due to the delay of elegant plastic and rubber industry exhibition in April, old and new friends did not get together. In order to further cater to the development trend of the exhibition industry, deepen the publicity of exhibitors, and help the steady and healthy development of China's plastic industry, China Plastics Processing Industry Association and the organizing Committee of 2022 China International Plastic Exhibition jointly launched the "2022 China International Plastic Exhibition Cloud Exhibition Platform", on May 17, hit the online!
      Introduction to Cloud Show platform
      The 2022 China International Plastics Exhibition Cloud exhibition platform is a set of cloud exhibition integrated cloud exhibition, cloud live, cloud conference, cloud docking, cloud interaction and other 9 plates of cloud exhibition overall solution digital system, focusing on strengthening the toughness of plastic processing industry chain, promoting online
      Offline fusion, expand the data source dimension, better to provide exhibitors, meetings, special activities such as interaction, at the same time, break time and space limit, extend the 2022 China international exhibition under the plastic line development functions, provide enterprises with all-weather marketing channel length and expand coverage, bring exhibitors more interesting content, forms of exhibitors and interactive experience more rich, Accelerate the digital process of THE 2022 China International Plastics Exhibition.
       After the epidemic, old friends will meet again. Industry experts and academicians, enterprise colleagues, and people with lofty ideals who care about the development and construction of plastic industry, we will meet on May 17!
       China Plastic Association is always on the way to build a platform for industry communication, promote economic and trade negotiations, enhance the competitiveness of enterprises, and promote the collaborative innovation and development of the industrial chain.
---
Post time: May-24-2022